If you're like me, you're a little hesitant around bees. I can't help but picture the scene from 1991's "My Girl" where Macaulay Culkin goes back to the woods to find a lost mood ring and gets stung by a swarm of bees. Bees are scary, or at least that's what I thought before I visited the bee exhibit in the Expo Center.
The exhibit is all about the importance of bees and beekeeping to N.C. agriculture. There's information on starting your own hive, displays of old equipment and even honey for sale. At the heart of the exhibit is a screened demonstration area where state apiarists explain the importance of bees while surrounded by a live hive.
State apiarist Don Hopkins took me into the cage to tell me a little more about North Carolina's beekeeping industry and what inspectors look for in a hive. Check out the video below from inside the cage: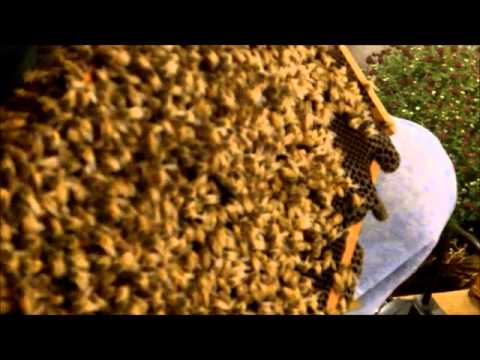 You can learn more about the state's beekeeping industry for yourself in the Expo Center. Look for the bee exhibit near the giant pumpkin and State Fair Ark. The exhibit is open from 9 a.m. to 9:45 p.m. during the fair.