It goes without saying that I love the State Fair and I love my job.
I was reminded of that last week as Sweet Corn and I went around the fairgrounds getting video footage for the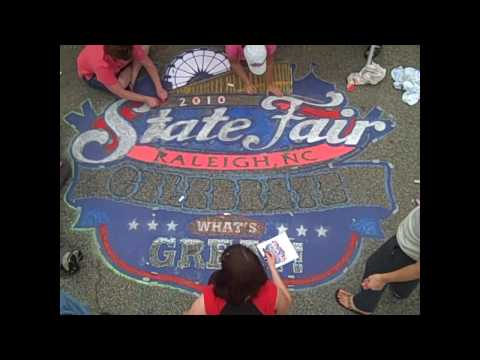 target="_blank">announcement of the new State Fair theme. Our original idea was to get people around the fairgrounds to tell you what's GREAT! about the N.C. State Fair. But everyone we came across had one of two answers (or sometimes both): "Everything" or "Just seeing people's smiles." When I prodded them for something more specific, the answers surprised me. When I asked about their favorite food, activity or ride, most Fair employees told me they just don't have time during the Fair to enjoy it, so they get their pleasure during the Fair seeing all the happy people. (And no, I don't think they were just saying it for the camera.)
That's when I realized I had one of the best jobs at the Fair. In the Press Office, we work hard, but we get to truly experience the Fair for 11 days. Whether it's taste-testing foods to bring you awesome food reviews (more food reviews here,  and here), getting a makeover,  testing rides to find out which lane is fastest, or building LEGO corn dogs,  we work hard– but we get to have fun while we work. (All in the name of bringing YOU the best information possible, of course.)
Most State Fair employees and volunteers see only the portion of the Fair where their duty station is located. Their dedication and hard work mostly goes unnoticed, but the Fair would fall apart without all of them. So the next time you come across a State Fair employee, tell him/her how much you appreciate the job he/she does. I'm sure they'll just smile and tell you how glad they are that you have a GREAT time while you're here.