You don't have to go over a mountain to see some of the best exhibits at the fair. You just have to go "up the hill."  If you've never been up the hill from the lake, then you've missed a special portion of the N.C. State Fair. The area located near Heritage Circle is full of exhibits from the N.C. Forest Service and Division of Soil and Water Conservation.
The most recognizable display on the hill is a giant, talking Smokey Bear. Children love interacting with Smokey and asking him questions. Other N.C. Forest Service exhibits provide useful information on preventing fires, as well as educational material on the services of the Forest Service. During the final weekend, you can pick up free lobblollly pine seedlings to take home and plant in your own backyard. N.C. Forest Service public information officer Brian Haines took us on a tour of the exhibit: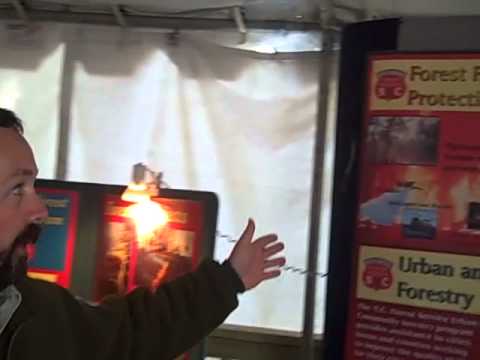 While you're exploring the hill, check out the soil and water exhibit where you can spin the wheel of fortune and answer questions about conservation. If you get the correct answer, you'll win a sticker and a piece of candy. There also is plenty of free information you can take with you, as well as displays explaining the importance of conservation.
Go "up the hill" to see what you can see during the last weekend of the 2011 N.C. State Fair. Note, the exhibits up the hill close at 6 p.m. The fair gates are open from 8 a.m. to midnight Saturday and Sunday. You can find more information and buy your tickets before you come at www.ncstatefair.org.