At first glance, the Sky Diver looks like a plain Ferris wheel. But when you get up close, you realize there is a lot more to this ride than meets the eye. The Sky Diver is based on a Ferris wheel design, but passengers sit in cages similar to the Zipper. The cages are mounted on an axle that allows the cars to spin like a barrel roll.
The best part? There's a wheel in the cage so you, or your co-pilot, can control how fast you spin. To see this technique in action, check out the video below. (My favorite example is at 3:04).
Note: If video doesn't play, try refreshing browser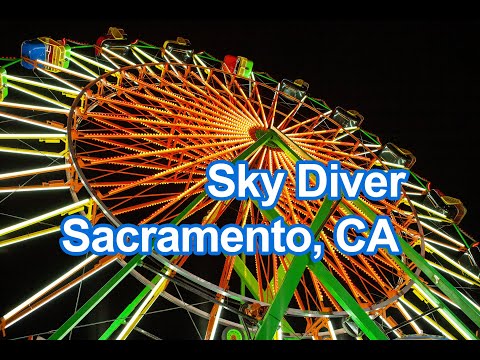 This is one of several rides making its first trip to the N.C. State Fair. Powers Great American Midways, our midway provider since 2006, also will bring:
Magic Maze Glass House: Children will enjoy this two-story house of glass, especially the slide.
Looney Lagoon: Hop in a wooden tub and take the ride of your life in this family friendly pirate-themed coaster.
Crazy Chopper: You've been cleared for takeoff in this zany helicopter ride.
Cyclone Tunnel: You may want to hold off on the deep-fried goodies until after you go through this vertigo-inducing chamber.
With more than 100 rides, North Carolina has the largest fair midway in the country. There's a ride for almost everyone, whether you like a peaceful rotation on the Merrie-Go-Round or a scream-enducing spin on the Twister.
Now's the time to buy your ride tickets and take advantage of discounted prices. Discount tickets are available online now through Oct. 13. Walk-up locations open Thursday at multiple retail locations.
Ride sheets can be purchased in advance for $10 for a sheet of 18 tickets. At the door, ride tickets are $1 per ticket. Ultimate thrill seekers will want to come to the fair Preview Day Thursday, Oct. 13, for unlimited-ride wristbands. For more information, including a complete schedule of events and show times, or to buy fair tickets, go to www.ncstatefair.org.
We'd love to hear from you. What's your favorite ride at the fair?