Do you spend your days at the Fair alternating between deep-fried goodness and stomach-churning rides? Well, this may interest you: Powers Great American Midways, which brought last year's popular Vertigo ride, recently confirmed the latest ride to grace the midway at the N.C. State Fair. It's called Fighter.
According to the manufacturer, this ride combines the rotating movements of a carousel with the pendulum motion of a swing. This results in a smooth but exciting ride with unlimited variations. You can view a video of the ride below.
Note: If video doesn't appear, try refreshing your browser.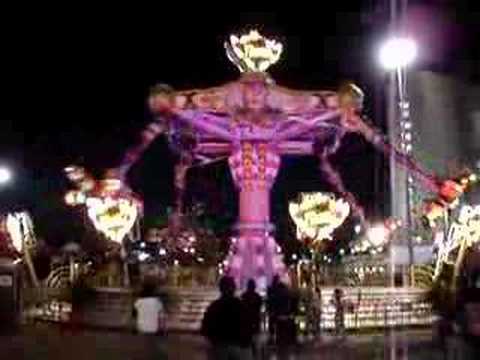 Getting the ride to the N.C. State Fair wasn't easy. For starters, there are only two Fighters in the world. Next, there was the size issue. Fighter is a monster, standing 35 feet tall with a footprint of 80 feet. It's so big that its 91 foot trailer requires a special permit to be transported across roads. Luckily, Powers secured the permits and Fighter will be at the Fair starting Thursday, October 14, during Preview Day.
Speaking of Preview Day, serious riders will want to take advantage of the Preview Day unlimited ride wristband. The $25 wristband is good for unlimited rides from 3:30 p.m. to midnight on Thursday, Oct. 14, only. They will be available at Midway ticket booths on Preview Day, and are not available in advance. All fairgoers can save with discounted gate admission prices on Preview Day. Tickets will be $6 for adults and $2 for children ages 6-12 that day.
So, what do you think about the Fighter? Will you give it a try?