On the first day of the Fair, Firecracker issued a challenge for the press office staff to do something they have never done before at the N.C. State Fair. As an intern from South Carolina, there are a lot of things that were new for me this year. Yes, I have been to the N.C. State Fair before, but I usually limit my trip to one night – enough time for one ride, a turkey leg and some N.C. State ice cream.
I waited until the last day to post this blog, and now present Bearded Lady's Top Five New Experiences at the N.C. State Fair (BLTFNENCSF). OK, the acronym needs work, but I hope you enjoy.
Number Five: Oscar Mayer Wienermobile
You know it's a party when the Wienermobile is in town. I've never serenaded anyone with the Oscar Mayer jingle.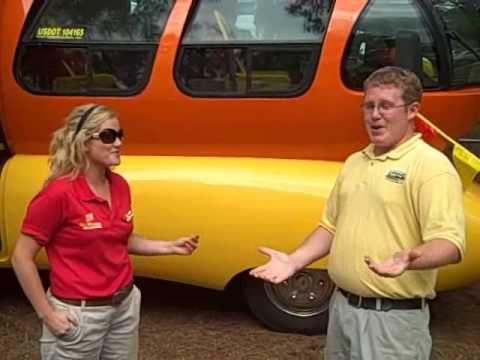 Number Four: Dorton Arena from the bottom
You may remember Mike Pleasant from our behind-the-scenes look at Dorton Arena. He recruited me to help him paint the numbers on the floor of Dorton Arena.
Number Three: Dorton Arena to the top
On Youth Day, I helped GreenThing take photos of 4-H members from the top of the iconic arena. (DISCLAIMER: Do NOT attempt to climb on Dorton Arena.)
Number Two: Military Appreciation Day
This was my first Military Appreciation Day. I saw the 2nd Marine Division Band and Party Band perform, and even planned the first-ever N.C. State Fair JROTC Review. Thanks again to the JROTC programs at Riverside High, Wake Forest-Rolesville and West Johnston for participating.
Number One: The Office
It's hard to find a time when the entire press office is together during the Fair. On Tuesday, we found a few minutes to get together and ride the Drag Strip – the tallest portable slide in North America.