Although there's nothing deep-fried about the new L'Oréal Paris Color Space tent — well, unless you were to come into the makeover booths with a sunburn — we wanted to check out the exhibit's promised "insider tips and tricks on the newest and best in beauty."
The 5,000-square-foot tent is really impressive, and reminds me of the weekly L'Oréal Paris challenges on Project Runway (our Twitter friend @Raleighwood reminded us to "use the Macy's accessories wall thoughtfully." She's clearly a Tim Gunn fan as well.)
The staff is really knowledgeable, and Elaine, who works in the Skincare Lab, is actually a local who has been traveling with the exhibit across the country. She helps to address skin concerns and creates a custom skincare regimen using an innovative skin analysis tool [Deep-fried note: This is the contraption Firecracker has her head inside in the video].
On top of all that, we got a $2 gift certificate for any L'Oréal product in the tent's shop or at local retail locations and a free mascara for participating in Cosmetic Area makeovers. We got to choose between "natural" or "glam" looks, and they wrote down which products and colors they used on us so we could recreate it on our own.
We recorded our makeover experience in the tent: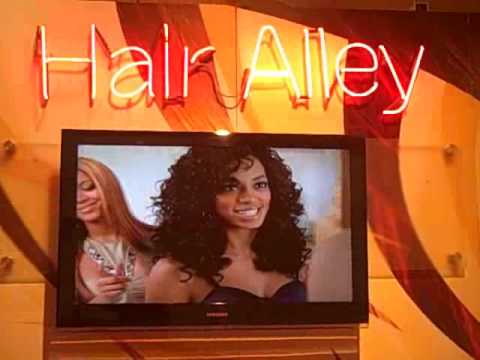 Here are some other cool features you can check out:
Truelight Pod: Find out what foundation shades work with your skin tone using the exclusive, cutting-edge technology of the Truelight Pod which recreates specific lighting environments – see how lighting in daylight, offices and local restaurants affect your appearance. Identify the perfect L'Oréal Paris True Match makeup shade using a customized shade matching program.
PRO Manicure Bar: Visitors can sample, experiment and give themselves a manicure at the self-service bar.
Haircare Zone: L'Oréal Paris stylists will offer hair consultations for men and women, identify haircare regimens suitable for specific hair types and recommend styling products for achieving the best look. Limited supplies of VIVE Pro and EverPure shampoos and conditioners will be available for sampling.
Haircolor Alley: Receive a one-on-one consultation with a L'Oréal Paris haircolor expert to select the right at-home haircolor for you.
The tent is located behind Dorton Arena (closest to Hillsborough Street) near the pottery tent. Let us know what you think!