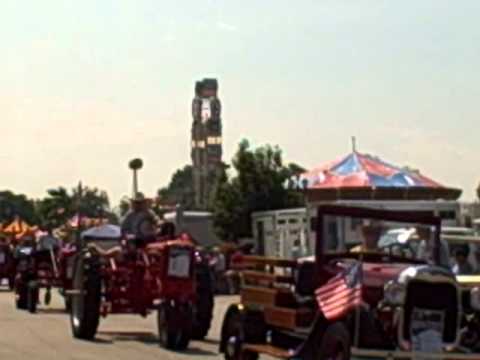 Ag Commissioner Steve Troxler kicked off the 2011 Got to Be NC Festival by leading the first of three antique tractor parades this morning at the Fairgrounds. A few morning showers have turned into a warm and sunny afternoon. In addition to the large selection of antique farm equipment on display, festival-goers have enjoyed the Carolina FiberFest, Food and Wine Expo and the Raleigh Flea Market.
The Sam Rand Grandstand will be full of free activities tonight beginning with the children's stick horse races at 5 p.m., followed by a performance by Rocky the Trick Mule, plow-horse demonstrations, draft horse pull and Paul Bunyan Lumberjack Show.
There's also plenty of food to try on the fairgrounds, so bring the entire family out for supper. The Amran Shrine will be offering plates of fresh N.C. seafood all weekend, you can get Fair favorites such as gyros and corn dogs, and also try fried butter. For dessert, there's plenty of sweet treats, including ice cream, cotton candy and deep-fried Oreos.
The fairgrounds will be open until midnight tonight, so come out after work and enjoy the best of North Carolina. You can plan your trip and find more information about the festival at www.ncagfest.com.