Having a hard time expressing your thoughts in 140 characters or less? (For the record, the previous question was 70 characters). We may be able to help with a special event for social media users like you – the Deep Fried Triangle Tweetup at the N.C. State Fair.
The event, co-hosted with the founders of Triangle Tweetup, will be held in the Folk Festival Tent Thursday, Oct. 22, from 7 to 9 p.m. And because we're holding the tweetup on Food Lion Hunger Relief Day, everyone will get in free with four cans of food benefitting the Food Bank of Central and Eastern North Carolina.
Check out the promotional video below starring Triangle Tweetup's Wayne Sutton and Jeff Cohen, as well as Cotton Candy, Firecracker, Green Thing and me. Special thanks to Zach Ward and Ted Hobgood for their work behind the scenes.
Note: If video doesn't appear, try refreshing your browser.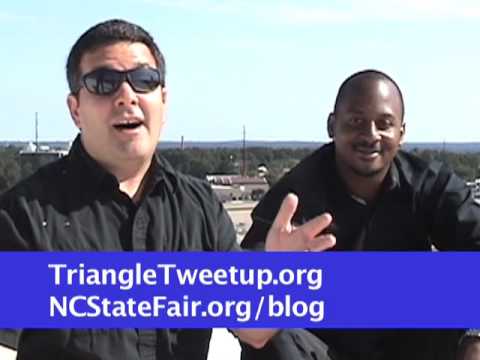 Last year, when we first joined Twitter, we noticed tweeple planning informal tweetups at the Fair to try our very best deep-fried offerings and jump on a few thrill rides. That was the inspiration for us to organize an event that would help Twitter and social media users across the state meet up with fellow tweeters and enjoy the Fair. Of course, we wanted to meet our Twitter followers face to face, too!
We have lots of fun stuff planned for the Deep Fried Triangle Tweetup. You'll be able to sample deep-fried Fair food, interact with Fair entertainers, participate in a Twitter-themed scavenger hunt and enter to win prizes throughout the night.
As we get closer to the State Fair, we'll announce more details on the tweetup here.  And if you haven't already done so, follow us on Twitter for behind-the-scenes information about this year's Fair. For more information about the Deep Fried Triangle Tweetup and  to register for the event, go to www.triangletweetup.org. Space is limited to the first 500 registrants. You can help promote the event by adding a logo to your Web site or blog.
(DISCLAIMER: Do NOT attempt to climb on Dorton Arena.)
We hope to see you there!