Craving deep-fried goodness, but can't wait until October? We're here to help. Each Friday in September, Bearded Lady will visit a local Best Dish in N.C. restaurant to see what chefs are frying to satisfy a Fair fanatic's hunger. Along the way, he'll sample deep-fried creations worthy of the N.C. State Fair. And, while you won't find these foods at the Fair, you will find them throughout the year at our participating restaurants.

Last Friday, we sampled deep-fried goodness from Papa Mojo's Roadhouse. This week, we continue our search for local restaurants serving unique fried creations with another Durham establishment, Worth It Cafe. Located at the corner of T.W. Alexander and Miami Blvd., Worth It Cafe has quickly become a staple in Research Triangle Park since opening earlier this year.
Worth It Cafe is the first farm-to-table express restaurant in RTP. In the summer, the cafe sources an impressive 95 percent of its food from North Carolina farmers. The rest comes from farms across the Southeast. It may come as no surprise that executive chef and owner Chuck Hayworth's favorite part of the N.C. State Fair is visiting the agricultural exhibits. In fact, his love of the agricultural exhibits started on his first trip to the N.C. State Fair with his father when he was just five years old.
For this Deep FRIEDays segment, Chuck prepares two dishes from Worth It Cafe's menu – ranch root chips and fried green tomatoes. The ranch root chips are a combination of thinly sliced red, sweet and purple potatoes, as well as red and golden beets, fried in canola oil and tossed in a special house seasoning. The second dish is a spin on a Southern favorite, fried green tomatoes. Fresh N.C. green tomatoes are sliced, then breaded in Panko bread crumbs and spices and finally topped with chipotle sour cream. Check out the video to see how Chuck makes these Worth It Cafe specialties.
Note: If video doesn't play, try refreshing browser.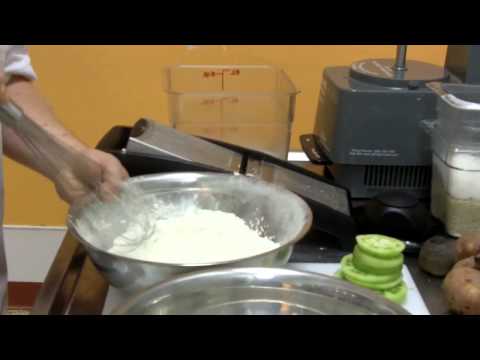 Remember, you won't find these ranch root chips or fried green tomatoes at the Fair, but hopefully they can quiet your deep-fried hunger for another week, so make a trip to Worth It Cafe, then check the blog next Friday when we visit Carolina Ale House to see what the chefs are frying up for football season.