Craving deep-fried goodness, but can't wait until October? We're here to help. Each Friday in September, Bearded Lady will visit a local Best Dish in N.C. restaurant to see what chefs are frying to satisfy a Fair fanatic's hunger. Along the way, he'll sample deep-fried creations worthy of the N.C. State Fair. And, while you won't find these foods at the Fair, you will find them throughout the year at our participating restaurants.
Nestled in a Durham shopping center, Papa Mojo's Roadhouse looks simple enough. But once inside, the experience and the food are anything but simple. Papa Mojo's serves up Cajun and Creole specialites in a restaurant that looks like a Bayou manor. It's a fitting place for owner Mel Melton, who spent years cooking in southern Louisiana before moving back home to his native North Carolina.
Originally from Caswell County, Mel spent a lot of time at county fairs and the State Fair when his daughter was in FFA. With a background in cooking and experience with Fair food, we asked Mel to prepare some of his own deep-fried creations.
For our first Deep FRIEDays, Mel Melton and chef Tim Coleman prepare two of Papa Mojo's specialties – jambalya balls and beignets. The jambalaya balls are a perfect blend of meat, rice and spices cooked in a savory jambalaya, then chilled, battered and deep-fried. The beignets, a French-market doughnut, is fried dough covered in tons of powdered sugar. Check out the video below to see how Papa Mojo's prepares these dishes.
Note: If video doesn't play, try refreshing your browser.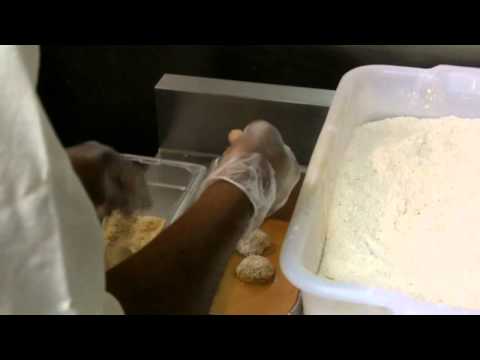 Remember, you won't be able to find these jambalaya balls or beignets at the N.C. State Fair, but you can get your deep-fried fix at Papa Mojo's Roadhouse in Durham. If you're really adventurous, you can download these recipes and try them at home:
The N.C. State Fair starts in less than six weeks. Hopefully, these treats can hold off your cravings until then. Check back next Friday when we sample Worth-It Cafe's Ranch Root Chips and Fried Green Tomatoes.