Craving deep-fried goodness, but can't wait until October? We're here to help. Each Friday in September, Bearded Lady will visit a local Best Dish in N.C. restaurant to see what chefs are frying to satisfy a Fair fanatic's hunger. Along the way, he'll sample deep-fried creations worthy of the N.C. State Fair. And, while you won't find these foods at the Fair, you will find them throughout the year at our participating restaurants.
For our final Deep FRIEDays segment before the Fair, we move closer to the fairgrounds as we visit Lucky 32 Southern Kitchen in Cary. The restaurant, which is owned by Quaintance-Weaver Restaurants & Hotels, is known  for its nontraditional spin on Southern comfort food. Triad residents may be familiar with Lucky 32's sister restaurant in Greensboro. Under the guidance of Executive Chef Jay Pierce, both locations source locally grown produce and meats to create dishes that are fresh and delicious.
With a focus on local products, it's not surprising that Jay chose to use fresh N.C. sweet potatoes for his deep-fried creation. Lucky 32 Southern Kitchen's sweet potato hushpuppies are a mixture of sweet potatoes, onions, flour and spices. The batter is fried to a dark brown, covered in powdered sugar, skewered and served with a sweet blueberry sauce. Check out the video below to see how Jay makes these tasty treats.
Note: If video doesn't play, try refreshing browser.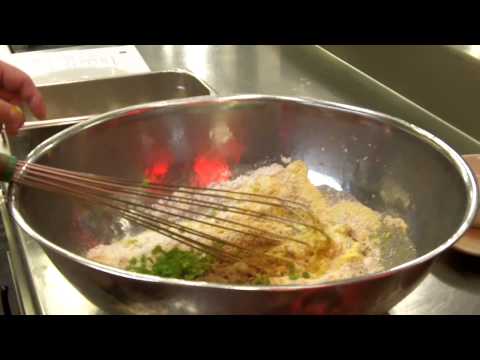 Remember, you won't find these sweet potato hushpuppies at the State Fair, but you can try them at Lucky 32 Southern Kitchen to satisfy your own deep-fried cravings. Hopefully, they will help pull you through until the gates open at the fairgrounds on Oct. 14.