Only a few more hours until the 3rd annual Deep Fried Triangle Tweetup starts. Triangle Tweetup shared a checklist with you recently and we wanted to share a few more last minute details with you.
First of all, you can't take part if you don't have your ticket. So, if you haven't gotten your ticket yet, click here to buy your discounted ticket. This ticket not only gets you into the gate, it also RSVPs you for the event. So don't delay! Also, gates open at 3 p.m., so feel free to come early to enjoy the fair and then cap off your day at the Tweetup.
Location. The Tweetup takes place from 7 – 8:30 p.m. in the Folk Festival Tent. The tent is located behind the Kerr Scott Building. If you can find the log flume ride, you're really close. It isn't very well marked, but this is an exclusive event, so we don't want to advertise it too much.
Swag. Yep, not only will you get to enjoy some fun entertainment, such as yo-yos, origami, and more, but you'll also go home with some goodies. We aren't going to tell you what exactly, but we will preview the 3rd annual Deep Fried poster:
Food. You may have heard of a little treat called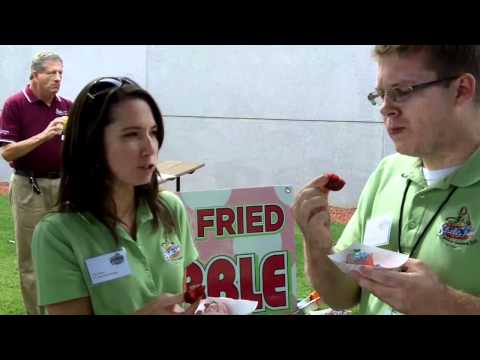 target="_blank">Deep Fried Kool-Aid. Well, you'll get to try it out courtesy of the Murphy House Restaurant / D&J Concessions. One tradition for many fairgoers is stopping by to get fresh, hot hushpuppies and House-Autry will save Tweetup participants from standing in line to get them. Yum! And if you participate in the SCVNGR hunt, you'll get to try a few more exclusive samples on your trek by some great vendors.
Speaking of SCVNGR, don't forget to download the app so you'll be ready. The Tweetup challenge will be ready starting at 3 p.m. and will be open until midnight. We'll award prizes to the top teams. Don't forget to follow #DFSmackTalk on Twitter. Don't worry if you don't have a team yet. You can join a team at the Tweetup.
Get your ticket and come on out to the Tweetup.