At last night's Deep Fried Triangle Tweetup, more than 150 revelers (twevelers?) came together to celebrate deep-fried food, face-painted Fail Whales and, of course, the rocking Twitter community here in the Triangle. We had a great time at the event, and we hope our tweeps did too.
Also, we want to give attendees (and everyone else who came to the Fair on Thursday) a HUGE shout out for your contributions to the Food Bank of Central and Eastern North Carolina (@FoodBankCENC). By bringing four cans in exchange for admission on Food Lion Hunger Relief Day (@FoodLion), you helped us raised the most poundage of canned food ever — 237, 534 pounds, to be exact. Tweeps also help set a new attendance record for a Thursday at the N.C. State Fair, as 108, 929 came in through the gates. #FTW!
For those who couldn't make it, we had a live stream of the event (a.k.a. Deep-Fried Television)  up on our Web site, where 43 unique visitors tuned in to get in on the fun. For those who were, we had facepainting, caricatures, magic tricks, a Twitter-themed scavenger hunt and, of course, deep-fried food. (And yes, if you were wondering, this was attended by adult tweeps. Although we had a few awesome children who are on Twitter, too.)
As you might expect, all of these elements led to some very interesting tweets. Here are just a few:
Be sure to check out the hashtags #triangletweetup and #deepfriedhunt, which follow the night's tweets during the tweetup and the Twitter-themed scavenger hunt. We also added our tweetup Flickr photos to the Triangle Tweetup group, so tag them on there.
@PoodleMama5 (a.k.a. Michelle Harrell, who handed out some "Trick or Tweets" along with magician @GreenSteveTrash) posted a great round-up video featuring interviews, food reviews and more: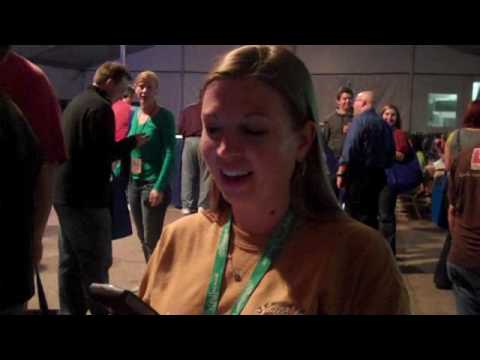 Also, we want to keep up news article and tweeps' musing on the event here on this post. If you attended the tweetup, send us a link to your blog post, videos and photos by commenting here, tweeting it over to @NCStateFair or emailing us.
Here's a good start: