While interning in the press office at the N.C. State Fair, I've had the opportunity to write press releases, post on the Deep Fried blog and interview blue-ribbon recipients—you know, press office stuff.
However, today I was challenged to apprentice under a blacksmith in Heritage Circle. Believe it or not, I've never cranked a forge or hit black metal. Until now…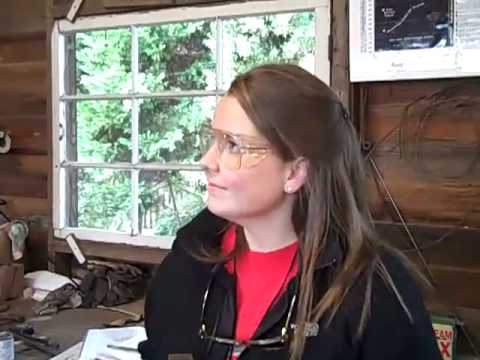 As you can see, the blacksmiths at Heritage Forge have years and years of experience. As for me, I'm just a beginner. With some help from Don Dillon, a blacksmith who has been practicing the trade for more than 35 years, I was able to shape a piece of metal into a pretty impressive hook.
As members of the Artist-Blacksmith's Association of North America, the tradesmen, craftsmen and hobbyists at Heritage Forge shape metal into useful and decorative objects such as knifes and jewelry. The blacksmiths have even created tools for other craftsmen in Heritage Circle. The bread bowl maker, for instance, uses wrought iron tools made at Heritage Forge to make bowls.
Ever since 1984, Heritage Forge in Heritage Circle has been a popular attraction and has presented fairgoers with the opportunity to experience history. Personally, working alongside the blacksmith was one of my most memorable Fair experiences—so I hope you all took some time to check out the demonstrations. If you missed it, don't worry, they will be back next year!