This is a guest blogger post by our Official Deep Fried Ambassador, Amy. We'll be reposting her State Fair adventures from The Practical Cook blog throughout the Fair.
Gentle Readers, as you're reading this post, the N.C. State Fair is opening its gates on the 2011 extravaganza. Here are some practical ways to maximize your enjoyment of this festive occasion, particularly as concerns Fried.
The Practical Cook's Top 5 Fairgoing Tips:
1. Use the Buddy System. Someone needs to hold the purses, and someone needs to split the Fried in half with you. Taking  a friend will in fact double your pleasure, and with that gum reference, here's video proof: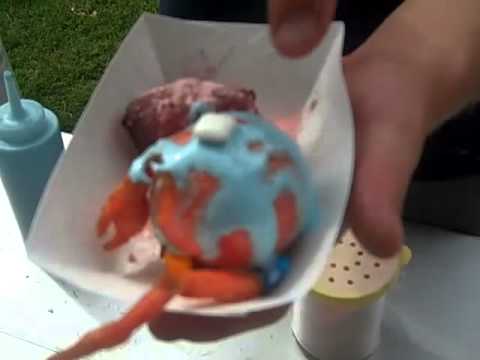 2. Pack Wetnaps. Perhaps this is just me, but it is impossible to Tweet with greasy or powdered-sugar laden fingers. If you plan to consume a proper amount of fair food, come prepared. The Deep Fried Ambassador wants to shake your hand, and the wetnap enables a pleasant experience for all.
3. Research! It is a running joke that I don't go out the door without researching it first. And it is so easy to do.  Go to the N.C. State Fair Website or follow @NCStateFair on Twitter or on Facebook. There's even an N.C. State Fair App! Simplify your life by making a plan. Feel free to whiteboard out your strategy, take a picture, and share it here.
4. Wear Good Shoes. Do not be the complainy fair-goer in the cute heels: I have gone to the fair with you before. The fair is large, that is why it is cool. And there aren't Rascals to shuttle you about. So wear shoes for the job, because your favorite ham biscuit may not be next to your favorite lemonade stand.
Make a Fair Plan!
5. Consider the Audience. If you're going with younger kids, highly recommend going earlier in the day and at off-peak times. They can see more and you'll remain much calmer. With your research, you can select a destination for everyone in your party (there are choices for all ages and tastes), and then whiteboard it out in the car (or better still, the bus or train—now I want to drive to the train just to do this).
Share your Practical N.C. State Fair Tips in the comments box below! I hope to see you at the Deep Fried TweetUp tonight.
Send your blog suggestions and cooking questions to practical cook at gmail dot com. Connect on Facebook: The Practical Cook Blog. (Thanks in advance for spreading The Practical Cook Blog word. Press "like" on Facebook today!)