This is a guest blogger post by our Official Deep Fried Ambassador, Amy. We'll be reposting her State Fair adventures from The Practical Cook blog throughout the Fair.
Highlights from the N.C. State Fair: Top 5 List(s) (with video, of course!)
Gentle Readers, what an honor and a privilege it has been serving as your Deep Fried Ambassador at the 2011 N.C. State Fair. It is with a heavy heart, hopefully only metaphorically, that I must relinquish my badge and my parking pass, and return to my kitchen to steam vegetables for the next two weeks. The good news, there are two more days in which to create your own fair memories, so run, don't walk.
Here are highlights from my journey, broken into two categories: Deep Fried Food and Experiences.
First, let's roll the tape on 3 of my Top Five Deep Fried Foods: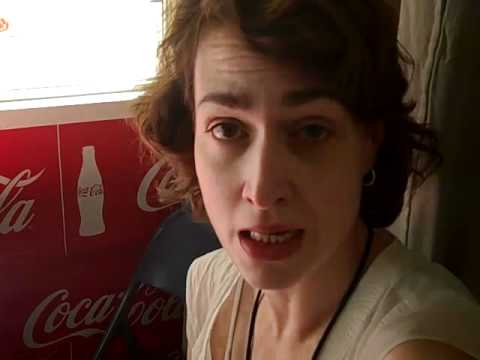 1. Fried Chicken at Hunnicutt's. Hot, crispy, peppery, this was a winner. To be fair, polling other people around my table, the fried chicken is the dish to order there. Also consider the veg plate, some of the best field peas I've ever eaten. They were like a Southern dal, if Indian cooking utilized pig instead of ghee.
2. Barbecue Sandwich at Pik-N-Pig. I would eat this sandwich outside the fairgrounds, and hold it up against top barbecue in the area. If you're not heading to Lexington today for the BBQ Festival, head to the fair and eat this sandwich.
3. Fried Okra at Farmer's Market. Perhaps you've noticed, I'm a connoisseur of fried okra. This ranks on my top 5 list. Well battered without being overly heavy, piping hot (it was 10:30 AM, I'm not ashamed to admit), and not slimy (haters), every member of our crew ate this, with the Eldest ranking it on her fave fried list.
4. Fried Cheese at Wisconsin Cheese. This should be filed under guilty pleasures. I'm not a ranch fan, but this is quintessential bar food. The crisp was perfect, the cheese was melty, and I almost wanted fries to dip into it. Sick, I know, but a week of deep-fried ambassdorship will do that to a person. I'm sure the other flavors are good too, but I went cheddar both times.
5. Deep-Fried Brownie at Chef's D'Lite. It is worth the hype. Chef's D'Lite rocks the fried (I had their banana pudding as well), and tends to go with a tasty but heavy coating of batter. They weren't my top deep-fried Oreo makers, but that thick batter WORKED on a cakey brownie. The cinnamon sprinkled on the top, a perfect counterbalance. I didn't find this overly sweet, it wasn't sickening, and I am not a fan of hot brownie sundaes, so this is saying something.
Now for the highlights reel, including some of my Top 5 Experiences: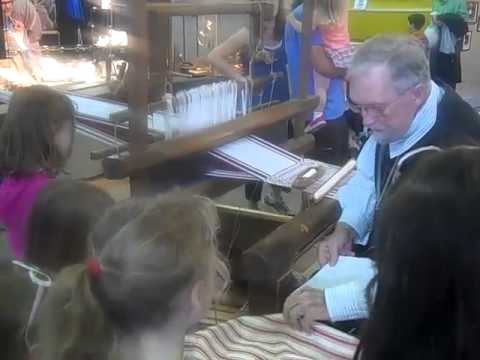 1. The People. From the Deep-Fried Crew to last year's Ambassador (@pretty_swell) to the food vendors to the Food Bank Peeps and the many, many Deep-Fried friends who helped me taste, what an experience. Thanks to one and all, you were amazing and made the experience one to remember. If you've been to the fair in the past, and don't think you belong there, go back and try again. I'm pretty converted and will be back next year.
2. Village of Yesteryear. Speaking of the people, the generosity of these people in explaining their crafts to the Juniors was impressive. These are long hours, a labor of love for many, and non-stop traffic. I learned a lot in the stops we made around the place. Way to go, good job bringing the old into modern times. They weaved and hammered, I tweeted about it. Harmony.
3. Overlarge Vegetables. As a foodie, it's impossible to resist. The varietals, the beauty, the pageantry, the obscenity of bounty and size, not to be missed.
4. Animals of All Ages. Not only did I see a cow who looked like Gene Simmons, I got to see baby animals nursing and jumping about, and cows on the runway. Cows define "bucolic" for a reason. I could've watched them for hours, like watching the ocean.
5. Prize-Winning Baked Goods, Junior Edition. I root for the up and coming cooks and bakers. Practical Cooks are everywhere, putting their time in at their home kitchens, the next generation to feed us. I salute you.
Deep Fried Ambassador, Amy Lewis (aka The Practical Cook) interviewed by Alyssa Marcus from the North Carolina News Network.
For the new readers, thanks for joining us, I hope you'll stay for the ride. For my original crew, we're getting back to a little less deep-fried tomorrow. Thanks to everyone for the kind words, the comments, and the support online and in person. It means more than you know.
What are your fair highlights? Share them in the comments below, or Tweet with #ncstatefair as the hashtag.
Send your deep fried confessionals and serious, ahem, cooking questions to practical cook at gmail dot com. Connect on Facebook: The Practical Cook Blog. (Thanks in advance for spreading The Practical Cook Blog word. Press "like" on Facebook today!)