This is a guest blogger post by our Official Deep Fried Ambassador, Amy. We'll be reposting her State Fair adventures from her Practical Cook blog throughout the Fair.
Taking Kids to the Fair: A Deep-Fried Survival Guide
Gentle Readers, The Practical Cook is happy to announce that she managed to go for a run yesterday, and is keeping the fried in stride. Which is most necessary, because today's chat is about going to the fair with Fried's biggest fans, kids. Of course, we'll also cover the latest in fried consumption because, well, because I heart food, as do The Practical Cooks Junior, who will be providing commentary through the day.
Roll the lastest Deep-Fried footage, this time it's Fruit: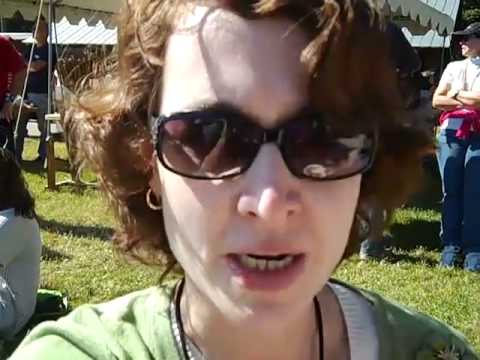 The Practical Cook's Top 5 Tips for Taking Kids to the Fair
1. Plan Ahead. Food, rides, activities should be mapped out at a high-level, with room for improvisation as you go. Depending on the age of the children, you may want to make the plan, and immediately remove 1 or 2 items from the list. It takes time to get around, there's lots to see, and no one wants to be dragged through the midway in an effort to get to the next thing.
2. Budget in Advance. For Team Practical Cook, this means busting open the cow and the pig (we're a farming people, and our allowance containers reflect this) and removing some hard-earned cash. The Eldest has asked for a cool $20. She is not playing around. Decide what you'll want to spend money on: food, rides, experiences, and stick with it.
3. Beware the Sugar Crash. Balance your sweet Fried with savory Fried. Starting the day with Deep-Fried Snickers is bound to lead to heartache and tears, mine. There's lots of munchables to be had, and they can be useful to keep little hands busy when walking between buildings or exhibits. Consider popcorn, peanuts, or even fries or pickles before going to the sweet side. And hydrate early and often!
4. Find a Quiet Spot. Head to the Flower and Garden Show area (#4 on the map). The grounds behind are shady, peaceful, and have seating. There are bands on the bluegrass stage up the way, and the Smitty's Apple Dumpling would make anyone happy. Second, the area between "Got to be NC Agriculture" and "Cultivate a Career" has seating and is close to Lumpy's Ice Cream. This is also key.
5. Relax. Be reasonable in your expectations based on the age of the children in question. You may not get to see every craft this year if you're managing young ones, or it may require a buddy system. Aim for off-peak hours to avoid the crowds and see more (weekday mornings are ideal!). Consider taking the bus and make an adventure out of it!
Here are the items on my plan for The Practical Cooks Junior, subject to editorial input by the TPCJs themselves:
Village of Yesteryear and Heritage Circle: Period costumes, cute things to buy, educational demos
Children's Barnyard and Rabbit Barn: Hello, animals and bunnies
Milking Station at the Expo Center and Livestock Barns
Kerr Scott Building: Great artwork exhibit, samples and stickers, close to sit-down eating opportunities and the Kid's Midway
Do you have a childhood fair memory? What was your favorite things to see, do, or eat? Post a comment or Tweet to me with #ncstatefair as the hashtag.
Learn more about going to the  N.C. State Fair with kids, including all scheduling info, maps, and educational opportunities.
Questions, comments, and offers of fame and fortune can be emailed to practical cook at gmail dot com. Connect on Facebook: The Practical Cook Blog. (Thanks in advance for spreading The Practical Cook Blog word. Press "like" on Facebook today!)

Tomorrow, the natural follow-up, Low-Cost and No-Cost: Attending the Fair on a Budget! (With more fried on the side!)