This is a guest blogger post by our Official Deep Fried Ambassador, Amy. We'll be reposting her State Fair adventures from her Practical Cook blog throughout the Fair.
Deep-Fried Legends of the Fair: Oreos, Krispy Kreme Burger, Elephant Ears (with video)
Gentle Readers, the people have spoken. Okay, a few people have spoken, and other people double-dog dared. Today's dinner adventure at the N.C. State Fair was . . . Deep-Fried Oreos, Krispy Kreme Cheeseburger, and Corn, in that order.
We got them here (on recommendation). Demand them Hot Now, they are infinitely better!
But the true legend has to be the Krispy Kreme Cheeseburger. I admit, I wasn't up for the challenge yesterday, but hoping for deep-fried culinary diplomatic immunity, I went for it.
This rendition was pretty simple, no toppings at all. I tried it plain, and with ketchup and mustard. All in all, the doughnuts were fresh and tasty, and somewhat overwhelmed the burger. I think it would be better with sausage and cheese, a sort of breakfast hybrid. The problem is the aftermath: sugar crash. I am still somewhat hungry, but with that mildly achy post-Lucky Charms thing going on. Probably wouldn't eat it again under non-dare circumstances. Would rather just eat a Krispy Kreme right off the conveyor belt.
Without further delay, let's watch the eating of the fried on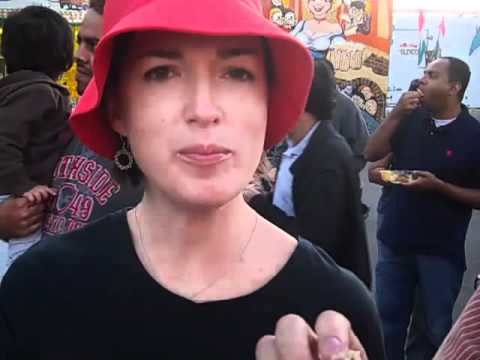 target="_blank">video, as promised: