This is a guest blogger post by our Official Deep Fried Ambassador, Amy. We'll be reposting her State Fair adventures from her Practical Cook blog throughout the Fair.
Day 1, N.C. State Fair Deep-Fried Review: Falafel and Reese's Cups (with video)
Gentle Readers, it is way too late to be blogging, but sometimes, the good news must be shared. This evening I ate my dinner standing up, cruising the midway of the N.C. State Fair 2011, with a most excellent group of people from the Food Bank of Central & Eastern North Carolina. More on this great cause later in the week.
Today's news is about balancing healthy with not so much. For my main, I chose falafel. Portable, vegetable, delectable!
For my wise choice, I received a "I ate a salad at the fair." So feeling most righteous, I proceeded here:
And ate this:
Roll the tape: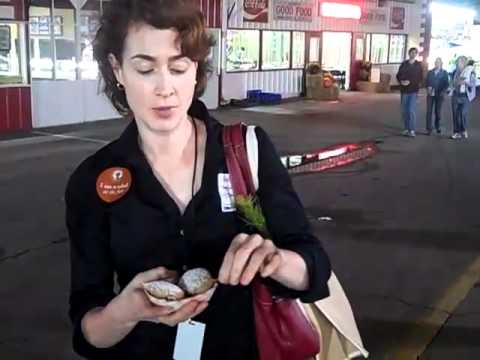 Balance in the force! I was impressed with how clean and safe the fair felt, how many food options there were (including vegetarian, gluten-free, and international), and how incredibly awesome all of the people I spoke with were. More interviews coming as the week goes on.
Share your food finds here in the comments section, be you seasoned fairgoer from another state, or N.C. State Fair fan! Can't wait to hear what you're eating (and to try a bite if I'm nearby).
Suggest a food stand or submit a blog idea by emailing me at practical cook at gmail dot com. Connect on Facebook: The Practical Cook Blog. (Thanks in advance for spreading The Practical Cook Blog word. Press "like" on Facebook today!)