Over the past four years, we've had the chance to sample some of the latest, greatest and strangest fair food to come to the N.C. State Fair. In the spirit of year-end lists, we thought we would look back at 15 of our favorite food-related posts from the past four years. Each day between now and Christmas, we'll post a different food review from our archives.
10: Food review: Kimmy's Cupcakes (2011)
While the fair may be famous for its deep-fried creations, the baked treats at Kimmy's Cupcakes in Kiddieland are a must-have for any fairgoer with even the smallest sweet tooth. Based out of Minnesota, Kimmy's Cupcakes has been a hit at fairs around the country and is making its debut this year at the N.C. State Fair. To see what all the buzz was about, Baby Goat and I tried a couple of cupcakes and wrote a review. Check out the video below to see what we thought.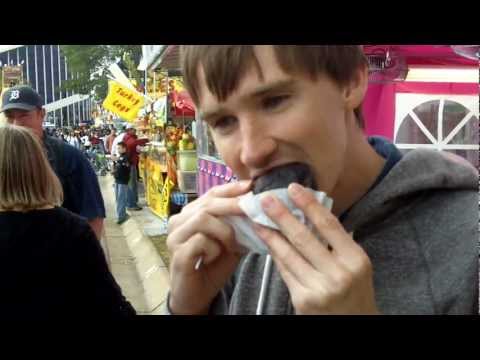 The best thing about Kimmy's Cupcakes is how fresh they taste. Each and every cupcake is baked fresh daily, and each is decorated with icing made in-house. The Kimmy's Cupcakes stand at this year's fair is located in Kiddieland near gate 11 and the Cultivate a Career tent.
You can find out about all the fair has to offer using the Food & Fun Finder on our website or by downloading the 2011 N.C. State Fair app for your smartphone.