State Fair fans have a new way to share their "Love A Fair" online with a website created by the State Library of North Carolina called Blue Ribbon Memories: Your History of the N.C. State Fair.
As Flying Bob mentioned in a previous post, the website offers visitors a chance to search through old premium books and view State Fair photographs and memorabilia from the state collection. The really cool part is that you can upload your own fair memories to the collection. For example, you can share the story of your first kiss on the Ferris wheel or upload a photograph of your prize-winning cake. The site also allows you to link to online photo albums, blogs or websites dedicated to the N.C. State Fair.
Last week, we had the chance to sit down with the person behind the project – Lisa Gregory, digital projects liaison for the State Library. In the video below, Lisa explains how Blue Ribbon Memories developed, shares some of her favorite finds from the collection and explains how you can help the project.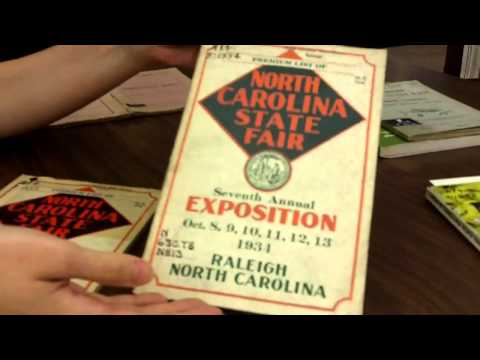 State Library staff will be on hand during the 2011 State Fair so be on the lookout for opportunities to share your Blue Ribbon Memories this October. In the meantime, you can share your memories online and browse the collection at statefair.ncdcr.gov.
We could only fit a handful of Lisa's favorite premium books in the video. You can see all her favs in the photo stream below.