We had so much fun getting to meet our tweeps in person during last year's Deep Fried Triangle Tweetup at the N.C. State Fair that we decided to do it all again. This time, we're moving the celebration to the very first day of the Fair to offer you a first glimpse at the rides, food and entertainment you can expect at the Fair.
The Deep Fried Triangle Tweetup, co-hosted with OurHashtag, will be held on Preview Day, Thursday, Oct. 14, from 7 to 9 p.m. in the Folk Festival tent at the N.C. State Fair. We're happy to announce that we're also teaming up with TriOut and Freezerburns this year for an even larger celebration. Check out the video below as Gregory Ng, Wayne Sutton and Ryan Boyles help Firecracker and Bearded Lady announce the event:
Note: If video doesn't play, try refreshing browser.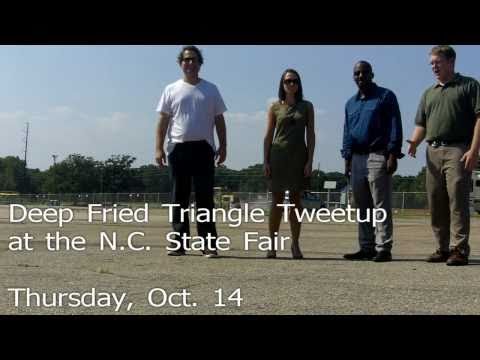 Come out early (gates open at 3 p.m.) and explore the fairgrounds with TriOut's custom scavenger hunt. Check in at locations around the Fair to earn virtual badges and actual prizes. During the Deep Fried Tweetup, you'll be able to interact with Fair entertainers, sample the latest deep-fried creations and enter raffles for other great prizes. We'll end the night with a special Freezerburns Live show. Frozen-food master Gregory Ng will be on-hand to compare Fair food with its frozen counterpart.
Tickets for the event are only $5, which includes admission to the Fair on Oct. 14. Space is limited to the first 300 registrants. Follow this link to purchase your ticket and register for the event today, and check back for more details as we get closer to the event. You can find more information about the event at www.TriangleTweetup.org and here on the Deep Fried blog. If you haven't already, you can also follow us on Twitter for the latest updates on the 2010 N.C. State Fair.